Download the excel sheet to design and analysis of a bridge
---
Learn how to design and make analysis of a bridge with the help of the excel sheet with adherence to AASHTO LRFD Bridge Design Specification 2007.
The excel sheet contains the following records:-
Bridge General Data
Girder Dimensions
Precast Section
Composite Section
Elastomeric Bearing
Material Data
Deck Slab
Precast Girder
Strands
The excel sheet can be used for the following purposes:-
Deck Reinforcement Design
Girder Design
Elastomeric Bearing Design
There are diverse types of bridges which contain various types of structures. Structural engineers or bridge engineers find it difficult to create the design for all the structural elements. Basic bridge structure software can't always provide solution to design structures. Here lies the importance of the bridge design and analysis spreadsheet for the engineers who are involved in bridge engineering.
With bridge design excel sheet, it becomes easier to obtain instant summary of different sections and parts of multiform bridges. This spreadsheet is specifically intended for producing the design of various sectors and components of bridge compliant with the requirements of engineers.
Article Source
www.excelcalcs.com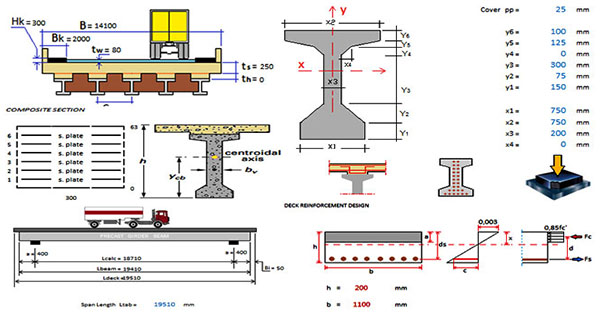 Image Courtesy : www.excelcalcs.com