Viewpoint MEP Estimating Software is perfect for MEP engineers
---
Viewpoint MEP Estimating is a useful construction program for MEP engineers. Previously this software was called as Maxwell Estimation. The software can be applied in creating estimates and takeoffs toward residential and commercial HVAC, mechanical, plumbing, and electrical firms. It comprises of trade-specific estimating power to facilitate producing precise and financially reasonable estimates.
There is a pricing database within the software that is constantly updated with the most up-to-date rates for materials and labor for every industry.
Viewpoint MEP Estimating contains Digital Takeoff, assemblies on the fly, what-if analysis and a proposal generator. With the digital integrated takeoff module, it is possible for the users to download plans out of plan rooms and employ them to create takeoffs directly on the screen.
In order to simplify the takeoff process, the estimators can apply digitizer boards, GTCO's Rollup Digitizer and Rigid Digitizer 'plug and play' with the system. There are some other exclusive features like CAD/BIM integration, Excel export with in-built formulas, automatic pricing from local suppliers etc.
Viewpoint provides huge benefits to the contractors, business role or project role, general contractors, subcontractors, CEOs, suppliers, architects, project managers and engineers.
This exclusive construction estimating software is compatible with Mac OS, Web browser (OS agnostic), Windows 8 operating systems.
Given below, some exclusive features of the software :-
It is very easy to use and summary reports are very supportive.
Runs reports and 3d views in quickest possible time. The align to image feature is undoubtedly the best in the industry as it is possible to take off contours as quick as make the mouse move. The users can also cut and paste anything into 1 layer from another.

The takeoff flow is arranged to facilitate smooth and precise takeoff's.
The structure of the program facilitates the users to easily execute your take-off and is compliant to allow you to adjust the estimate as soon as it is finished.
To get more information, visit
www.softwareadvice.com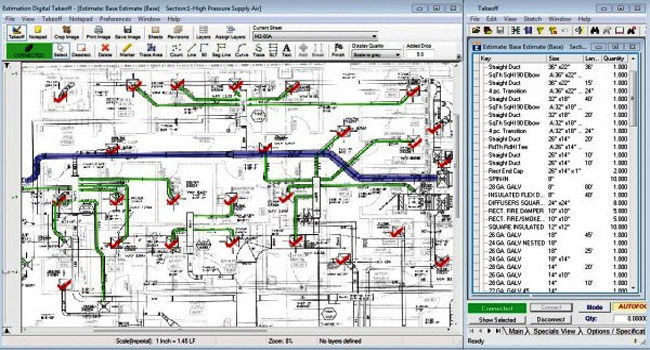 Image Courtesy:- www.softwareadvice.com