StruCalc is a powerful software for structural engineers
---
StruCalc is considered as the most powerful software for designing beams, columns, joists, rafters, collar ties, walls and footings.
This user-friendly structural analysis software tool is applied to facilitate analysis and design with wood, steel and manufactured lumber.
StruCalc is best suited for residential and light commercial projects. It is a sophisticated professional software that is supported with rigorous engineering methods and specifications useful for construction and engineering sectors.
How Does It Function?
Initially, you must have clear ideas on the loads operating on the design you are dealing with. StruCalc simplifies the process to select a design module with appropriate inputs for every design problem. There are Square, Round, Rectangular and Continuous Footings, Uniformly loaded beams, roof beams, combination roof and floor beams, multi-loaded multi-span beams, multi-span floor beams, multi-span roof beams, floor joists, roof rafters, columns, hip/valley beams, collar ties, and walls in StruCalc.
The most updated version is StruCalc 10.0. It comprises of the following exclusive features :-
StruCalc Load Tracker
2015 National Design Specification!
Wall Design Module
Framing Design Module
4 Design Options in Roof Rafter

All Beam Modules contain Active Loading Diagrams
Point Load on Collar Tie
Continuous Footing Enabled with Load Tracker
3 Point Loads on Uniformly Loaded Floor Beam
3 Point Loads on Roof Beam
3 Point Loads on Combination Roof and Floor Beam
To watch online demonstration concerning various features of StruCalc, go through the following link.
Demo Video
To download a 30-days free trial version, click on the following link
Download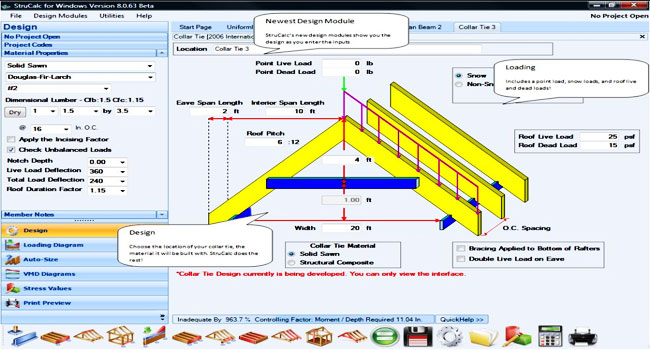 Image Courtesy:- www.engineeringclicks.com